Retirement Worries – Small Kitchen and Accessibility
If you are retired and live in a home with a large kitchen you may be thinking to yourself – what am I going to do when I have to move to a smaller home?
Instead of thinking about what you will be losing in the kitchen, think about what you will be gaining in life.
You could take the family out for dinner or go to your children's house. That way you can focus on the grandkids instead of working away in the kitchen.
Instead of focusing on large meals, you could learn a new dish to prepare for a small group. There are many recipes and ingredients that can spark a new love for cooking that does not involve feeding 20+ people.
Want more positives?
First and foremost, a smaller kitchen means less cleaning.
A smaller kitchen also allows for unique storage features.  Check out these exciting ideas that help retirees work in the kitchen more comfortably and safely.
Raised Dishwasher: raising the dishwasher a foot off the ground eliminates having to bend over.
Accessible Microwave: placing the microwave in a spot that is easily accessed reduces the possibility of burns and dropping items.
Roll-out Drawers: allow you to access items in the lower cabinets without having to reach to the back.
Pantries: face-level storage helps people who can't reach above their head or bend down low.
LaMans Shelves: pull-out corner shelves maximize lower corner cabinets that are hard to reach.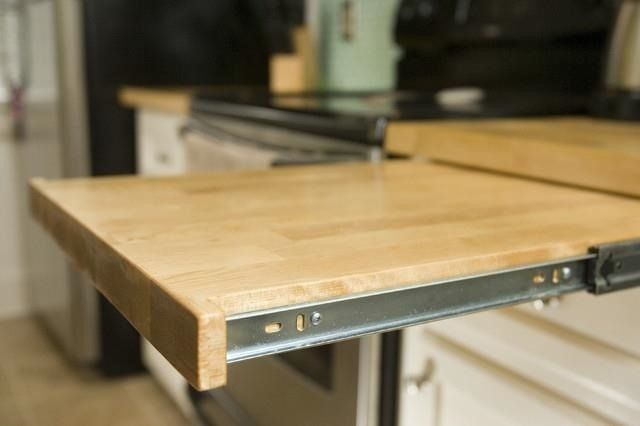 Pull-out Counters: quick ways to have additional counter space or cutting boards and are perfect for wheelchair accessibility.
Looking for other small home tips? Click here
Want some tips about accessibility in the home? Click here
Written by Katie Graham